NWHS 2015 Convention - Marion, Ohio
Wednesday, June 17 through Saturday, June 20
Location: Marion Union Station, Marion, OH
Marion is located in north central Ohio on US 23 about 40 miles north of Columbus. Convention Headquarters will be in the Marion Union Depot which sits
at the juncture of three busy double track rail lines. These lines were busy in the days of steam and continue to be busy today. The train station has been preserved and the grounds made into a park-like setting for rail fans. The station itself has many museum-like displays and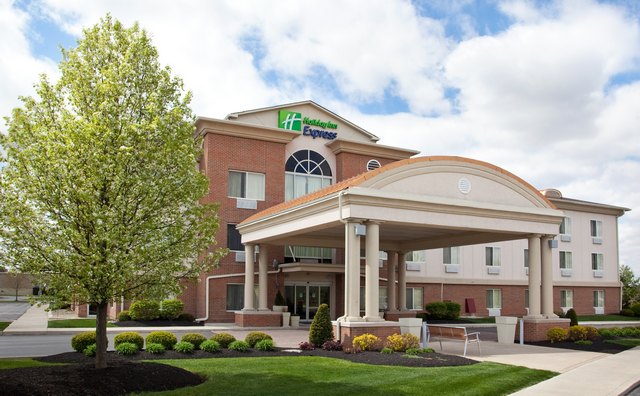 an HO layout occupies one of the freight buildings.
Our base hotel will be the Holiday Inn Express & Suites in Marion, about a 10-minute drive from the Marion Union Depot. Conveniently located off US 23 in the Marion business district, the hotel is surrounded by historical sites, retailers and fine-dining options. Amenities include free internet, express start breakfast bar, a fitness center and indoor pool!
Tours and Events!
Wednesday
We will have an information desk at the Depot with rail fanning handouts and "experts" to help you plan an "On-Your-Own Rail Fanning" expedition on Thursday. (The handouts will also be available at the hotel.) Marion is convenient to many local areas of railroad interest, including the restored depots at Bucyrus and Galion, and the Ohio Railway
Museum in Columbus. [Full disclosure; there is an N&W Pacific (No. 578?) at the Ohio Railway Museum; we hear that the locomotive is in sad shape and is deteriorating rapidly. The status of the museum itself is also unclear. Our current information is that it is only open, if at all, on Sundays]. We are going to have an informal pizza run at the Depot on Wednesday night for all those who show up and pitch in for a few slices. The handout will also be available for download on the convention webpage if you want to do some railfanning on the way to the convention.
Thursday
Those out rail fanning on
their own on Thursday might want to include stops at the Warren G. Harding museum, the Shamrock Vineyard and Winery in Waldo, and try the Best Bologna Sandwich in the world at the G&R Tavern in Waldo. Registration starts at 3 p.m. at Marion Station. The convention officially opens at 7 p.m. at Marion Station with welcoming presentations by NWHS officers, a preview of the Friday Tour by the Convention hosts, and a seminar.
Friday - Tour
Our bus will leave the Holiday Inn at 8:30 a.m. for an all day tour (lunch will be provided). We will head to the Norfolk Southern yard in Bellevue, OH. NS has graciously allowed us to tour this recently expanded and modernized yard. We will be given a guided tour of the facility, and will be allowed to tour the engine shop.
Note: hard soled shoes and long pants (no shorts) are required.
From the yard we will proceed to the Mad River & NKP Museum, also in Bellevue. Although there is an emphasis on the Nickel Plate, there are a number of N&W pieces at the museum, and a diverse exhibit with something for just about everyone. Lunch and museum tickets are included in your tour cost. We will be back in time for dinner on your own, followed by an evening of clinics. There are many good restaurants within easy distance of the depot, although The Shovel, virtually on the station grounds, is very popular with railroad groups.
Tour subject to cancellation if not enough people sign up!
Saturday
There will be Seminars,
Clinics and Train Watching at Marion Station. On site with the Marion Depot are the Marion Interlocking Tower, an Erie Lackawanna caboose, and a club HO layout. All of these are dependent upon volunteers. We are working with their groups to have them open for us for Thursday and Saturday, but as of this date we can't guarantee that they will be open.
There is also a non-Rail tour to historic Marion sites available.
Tour subject to cancellation if not enough people sign up!
Saturday - Annual Banquet
Join us for an enjoyable dinner at the Warehouse Restaurant in Marion. Following our meal, we will present this year's Golden Arrow, Brakeman, H. Reid, and Precision Transportation awards and hear from Randy Winland, local Marion author.